Presidents and sports: How does Obama stack up?
The president-elect, an avid basketball player, has a good jump shot. Bill Clinton was creative with his scoring on the golf course. Richard Nixon liked bowling, while Herbert Hoover was a fanatical trout fisherman.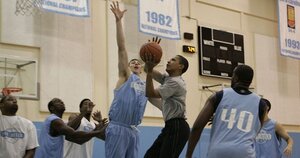 Jae C. Hong/AP
Inauguration Day means more than a change in power. It also heralds the arrival of a new First Athlete, not to mention First Fan.
In a sports-obsessed nation filled with baby boomers striving to stave off excess calories, it's little surprise that the men we've sent to the White House often embody those same traits. Presidents routinely joke about their golf handicaps, host star athletes as they celebrate Super Bowl titles and World Series wins, toss out ceremonial first pitches, and revel in the nonpartisan glories of sports.
It all started, as so many things in modern America did, with Theodore Roosevelt. Our 26th president brought a vigorous lifestyle to Washington, including a love of hunting, hiking, boxing, wrestling, and almost anything else represented in the Sweaty Arts.
"Theodore Roosevelt believed we needed to keep physically fit as a nation and made it part of the crusade of his presidency," says Douglas Brinkley, a historian at Rice University in Houston. "And it's sort of stuck ever since. It used to be, up until Theodore Roosevelt, that intellectual activity used to be what the general public focused on: what poets did [presidents] know, how many languages did they speak."
---
Follow Stories Like This
Get the Monitor stories you care about delivered to your inbox.