What Alabama school kids take home from the inaugural
They revel in the magnitude and minutiae of a historic moment – clasped hands and fluttering flags, soaring rhetoric and rainbow-hued crowds.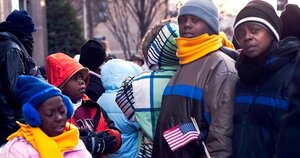 Carmen K. Sisson
Last of a three-part series on a school's journey from Selma, Ala. Part 1, Knox Elementary goes to Washington for the inauguration, ran on Thursday. Part 2, One family's road to history, ran Tuesday.

Brenton Sanders will always remember the import of the moment – both the poignancy and enormity of the first African-American taking the oath of office. But he will be carrying home something else as well: the civility and kindness of the throng of nearly 2 million people braving brisk temperatures to witness a piece of history.
The 16-year-old African-American from Selma, Ala., didn't expect to see crowds of whites and blacks standing shoulder to shoulder, smiling, happy. He didn't expect them to even look him in the eyes, let alone say, "Excuse me." To him, the chemistry of the crowd may have been as much of an affirmation of the spirit of the moment as what was being expressed on the bunting-bedecked terrace a long – very long – distance in front of him.
"I think things are going to get a lot better," he says with a blend of conviction and hope.
Brenton's memories of the historic time on the National Mall are echoed by many of the adults and students from Selma who journeyed to the nation's capital to see the swearing in of Barack Obama as the 44th president.
---