Is Michelle Rhee the new face of education reform?
The chancellor of Washington, D.C., public schools puts teacher performance at the center of a controversial bid to remake one of the nation's most troubled urban school districts.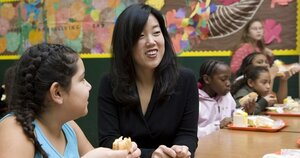 Alex Tehrani
On a recent afternoon, Michelle Rhee, the chancellor of the District of Columbia Public Schools, came out of a meeting to find an e-mail on her BlackBerry describing a problem at Anacostia High School. Two students had gotten into a fight while being dismissed from the cafeteria. A short time later, another student, who was smoking in a stairwell, started a small fire with his cigarette. It set off the fire alarm.
While the school evacuated to the football field, a third student ran down the hall jabbing his penknife into three kids, randomly.
"You know high school kids: When something happens it sort of causes a [chain reaction]," Ms. Rhee tells me, sounding casual, as we sit in her office. With the fire out and students milling around the 50-yard line, Rodney McBride, the Anacostia principal, calls Rhee to ask whether he should send the students home early.
Get them back in class, is her resolute response. Don't waste the rest of the day.
The incident illustrates Rhee's no-nonsense approach to turning around one of the nation's most troubled urban school districts.
Since she was appointed chancellor in June 2007, the young Korean-American has brought sweeping changes and a stern hand to the Washington public school system. She has fired hundreds of teachers, principals, and administrators, as well as shuttered 23 underattended schools.
At the core of her strategy is a conceptually simple but politically complex maxim: improve learning in the classroom by improving the people who hold the chalk. To do that, she advocates recruiting and retaining good teachers by paying them higher salaries – but cleaning out those who don't perform.
---