A new book – yours for the taking
An established author finds a novel way to distribute his new book.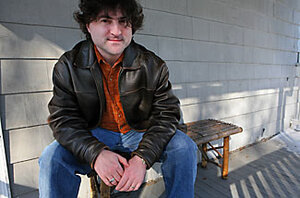 Melanie Stetson Freeman/Staff
Not so long ago, Ed Medina was studying in the library of Arcadia University in Glenside, Pa., when he noticed a peculiar package on a nearby table. It appeared at first to be the pieces of a abandoned essay, but when Mr. Medina peered more closely, he saw two lines of thick black printing: "Please Read!!! Do Not Discard."
"I was mostly suspicious," Medina explained later. "Like, is this for real? But the concept was too intriguing for me to ignore it completely."
As it turned out, that package was a novella – some 11 pages in length, each page split into two columns – typed up by a guy named Mike Heppner, who lived hundreds of miles away, in Belmont, Mass.
In 2002, Mr. Heppner was catapulted into the limelight when his debut novel, "Egg's Code," was nominated by both The Washington Post and Publisher's Weekly as one of the best books of the year. A second novel, "Pike's Folly," also fared well – Esquire magazine gushed over it – and Heppner seemed poised for a successful literary career.
But by 2007, Heppner, who now teaches at Emerson College in Boston, was having trouble placing his work, and his output had slowed to a trickle of short stories. "I was frustrated," he remembers. "No one was biting anymore. I felt out of the scene. I wondered for a while there if I should just give up."
---