Denmark's hippie haven faces shutdown
Christiania has flown its own flag for decades now, but the Danish government and real estate interests say, Enough!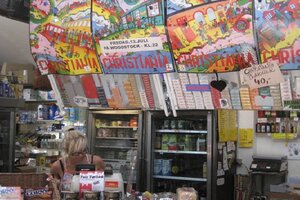 COPENHAGEN, Denmark
The whole thing started with a hole in a fence around an abandoned military barracks in central Copenhagen.
Parents in the neighborhood tugged at the hole to widen it. Soon it was big enough for their little kids to scramble through to play in the grassy open spaces within.
Not long after, squatters cut a large patch out of the fence and commandeered the whole barracks for their own use. They named the area "Christiania," stuck out a flag, and declared themselves free from the rule of Danish law. Nearly four decades later, the flag is still flying.
This derelict army depot's run as a makeshift playground was short. But it has had a long and often troubled run as a refuge for Copenhagen's fringe society. And now the Danish government, which has been listing right in recent years, has given up on clemency for the collective. It appears determined to finally dissolve the self-governing community of nearly 1,000 in what it calls "normalization."
But Christiania took a preemptive strike late last year and filed a couple of lawsuits, which are now being heard by Denmark's Eastern High Court. Decisions are expected at the end of this month.
The first suit cites as precedent a 1973 agreement that briefly allowed the commune to exist as a "social experiment." The second is, in essence, a class-action suit filed by the residents, claiming a right to live on the site without eviction, because they have now possessed it into the third generation.
In October, police evicted residents from a house on the rim of the commune, setting off a six-hour showdown.
---