Homeless people act out realities of life on stage
The Seldom Seen Actors perform plays with a mission - saving others from addictions and a life on the street that they've faced themselves.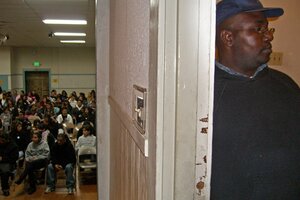 Jocelyn Wiener
OAKLAND, CALIF.
One hour before curtain call, Dennis Forester realizes his acting troupe has a problem. "We forgot the crack!" he hisses.
The other members of the Seldom Seen Actors look up, surprised. A few giggle. But the missing prop worries him. Drugs figure prominently into tonight's show. The script depicts their experiences with addiction and homelessness on the streets of Oakland, Calif.
They have lived this play. And tonight Mr. Forester wants to make sure they nail it.
The audience of 200 teenagers is already beginning to file in. They perch on the folding chairs lining the gym floor. "We need a prop," Forester concludes. He heads off in search of an empty plastic bag that can do the trick.
For more than three years now, the Seldom Seen Actors have reenacted their life stories on the stages of churches and high schools around the San Francisco Bay Area. The scripts, which they write themselves, refuse to gloss over the hard truths of drug addiction. They avoid self-pity in favor of brutal honesty: I wasn't there for my kids. I lied. I cheated. I stole.
Some of the cast members still spend nights on the streets, or in crowded shelters. Others lean on disability payments to rent furnished rooms. After years in the throes of addiction, estranged from his family, Forester now works as the director of a transitional housing program. He and the rest of the cast share a goal of telling true stories of their lives on the streets – the grit, the pain, and the humanity.
Tonight, inside a poorly ventilated, sweat-scented church gymnasium, the actors hope to save some of their young audience from starting down the path toward grief and desperation. And in so doing, they say, they're also trying to save themselves.
•••
---