Expert judgment at the Philadelphia Flower Show
From sweet peas to tactful brotherly love – a judge at the city's flower show needs a broad eye for detail.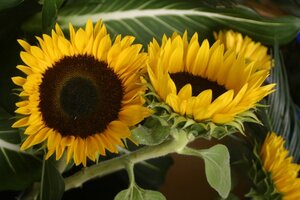 Photo courtesy of the Pennsylvania Horticultural Society
By the time Philadelphia says "arrivederci" to Bella Italia on Sunday, about a quarter million tourists will have stepped through her Roman arches, strolled past her Venetian wedding scene, envied her vegetable gardens, and ogled her opulently laid feasts. Italy is this year's theme at the Philadelphia Flower Show, the giant redwood of such shows, the Olympic Games of horticulture.
Every visitor is an expert here, dropping, like petals, a trail of judgments about the authenticity of this 25-foot dogwood, or the appropriateness of that color stucco next to terra cotta.
And for validation of their horticultural acumen, visitors look to the pronouncements of the official judges – the American Beauties, if you will, in a world of wildflowers. Aha – you were right about that garden path – there's the silver bowl. Here – here's the blue ribbon. There's the comment card that reads, simply, "WOW!!"
Judge Ginny Purviance is one of those charged with deciding what constitutes a Philadelphia Flower Show "wow." She arrived at the cold and cavernous Philadelphia Convention Center late last week during setup. The air was sweet with mulch, and armies of workers moved plywood and rock and trees and sod hither and yon, constructing what would evolve into a show that's a little bit marketplace, a little bit 4-H competition, and a whole lot of drop-dead, life-sized samplings of Italian life.
---