The West's largest Buddhist stupa rises in Spain
Benalmádena's Enlightenment Stupa is a karmic surprise amid the Moorish minarets and ancient Christian steeples.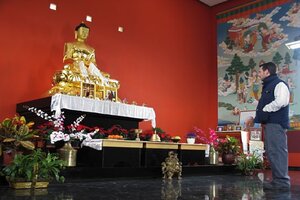 Lee Lawrence
Dressed in dark jeans and jacket, Dizi Btissam fingers a motorcycle helmet as she listens to a young man with thick eyelashes and wavy hair. Behind them, a gilded statue of Buddha looks benignly down at a row of poinsettias.
"He is not a god," Ivan Baez explains, as a low tremolo of chants filters through the sound system. "For us he represents the natural qualities that we all possess but that are obscured by our emotions, personalities..."
He is interrupted by the jingle of a cellphone from Ms. Btissam's pocket. She dashes outside to answer. Mr. Baez smiles. He wears a collarless cotton shirt dyed the deep red of uncooked saffron, and he gives the impression that life is equally good whether or not Btissam returns. She does come back, though, minutes later, to listen without further interruption as Baez speaks about enlightenment, about "resting fully in what is" and experiencing "our highest potential."
Buddhism is not what I expected to learn about in Spain. As I drove along the coast south of Malaga, my mind filled with the sound of lapping waves and the imagined clack of castanets. I pictured the rhythmic arches of Cordoba's mosque and the intricate floral carvings of the Alhambra. The last thing I expected to see, rising above the guardrail, was the gold spire of a stupa, a moundlike monument that commemorates Buddha. And it was huge, soaring 108 feet high and stretching 82 feet across at the base – the largest stupa in the West.
Granted, this is Andalucia, a region known for its history of religious diversity. In many towns, the church bell tower encases an older minaret. In Cordoba and Toledo, 14th-century synagogues feature intricate Moorish carvings. And ensconced among Cordoba's grand 10th-century mosque is a Roman Catholic cathedral. These are the legacies of La Convivencia, the time between 711 and 1492 when Muslims, Christians, and Jews lived peaceably together in lively intellectual and artistic exchange.
---