St. Joe teaches Thai orphans 'to be good'
'Stay with these poor people if you can,' urged Mother Teresa – and Father Joseph Maier does.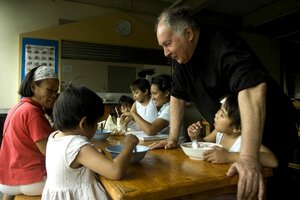 Photo by Andy Nelson/The Christian Science Monitor/FILE
As his namesake looks on from a wall-mounted relief cradling baby Jesus, the Rev. Joseph Maier kicks up a leg in kung fu style, sending his white cassock flying.
"Have any of you been fighting?" The American-born Catholic priest, speaking in Thai, is quizzing his "parishioners." A couple of boys, 7 or 8, giggle guiltily.
Sitting on the floor, 200 street kids, from 3-year-olds to teenagers, pack a narrow upper-story room that doubles as a chapel at his Mercy Centre orphanage.
"Let's see the new kid in the house," the priest, known to almost everyone as Father Joe, calls out to a 7-year-old boy. He's just been rescued from the nearby streets of the "Slaughterhouse," a squalid squatter compound in the notorious neighborhood of Klong Toey. It's built from scrap wood over the pens where squealing pigs were once butchered for the city's markets.
"Are you settling in well?" Maier asks. The boy nods shyly.
Then Maier calls on a blind girl with AIDS who was raised in a municipal garbage dump by her scavenger parents until they both died. Now she goes to a school for the blind and lives at the Mercy Centre. Her Braille reading and typing skills are improving, she tells "Khun Phaa" (Mister Father) proudly.
A teenager reads the parable of the Good Samaritan from the Bible before Maier launches into a sermon about the importance of self-esteem in rising above adversity by recounting the story of ... Kung Fu Panda.
---