Empathy is his superpower
Geoffrey Canada's initiative, Harlem Children's Zone, has grown to reach 8,000 children across nearly 100 city blocks.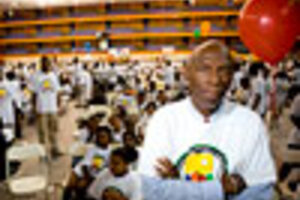 Kristen Olson / Special to The Christian Science Monitor
Geoffrey Canada still remembers the saddest day in his first nine years on earth. Back then, Mr. Canada clung to superheroes – and to Superman especially. He liked the guy, but he especially liked the idea he symbolized: immediate and dramatic salvation. In his earliest days, Superman was a social-justice hero, saving a man from a lynch mob, fighting fires, stopping robberies – rescuing people from the same kinds of dangers that seemed to lurk, in the 1960s, in Canada's rough South Bronx neighborhood. Superman, Canada had decided, was just the guy to fix a neighborhood full of poverty and drugs, to rescue Canada and his friends, to bring a little optimism to the merciless streets.
So when his mother broke the news that Superman didn't exist, Canada burst into tears.
"She thought it was because I loved Superman so much. It was because I thought he was real, and one day he would get around to coming in and saving us."
Canada, today an animated man with a gentle voice, grew up with a strong extended family that valued education; his mother, he remembers, "preached reading," which he says made him more successful in school than many of his classmates. Most of his neighborhood friends didn't have it near as good; their homes were often places of poverty, depression, and substance abuse.
In his early teens, drawn by the temptations of the street, Canada says he was losing interest in the classroom. In the nick of time, he says, his grandparents moved to Long Island and took Canada with them; he credits the opportunity to attend a higher-achieving suburban high school with his future success. "The odds of ... going through all 12 grades in New York City at that time and coming out ... the sort of student I ended up being were slim to none."
---