People Making A Difference: Chrissie Lam
This New York fashion designer taps the talents of her fellow artists to help the orphans of Rwanda.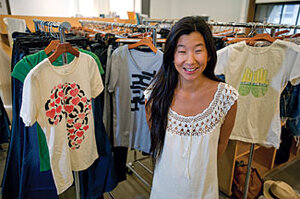 Ann Hermes/Special to The Christian Science Monitor
When Chrissie Lam started writing down the stories of the children of Gisimba Orphanage, she thought it might help them find foreign sponsors. It was August 2008, her first day in Rwanda, and she didn't yet realize that those stories would so eerily echo the stories of other Rwandan children – those who didn't survive.
She hadn't yet made the pilgrimage made by the thousands of tourists, business people, aid workers, and diplomats who pass through this tiny East African country each year.
Inevitably, they visit Gisozi.
Near the top of Gisozi, a hill set back from the hustle and bustle of downtown Kigali, the Rwandan capital, stands the Kigali Memorial Center. It commemorates Rwanda's 1994 genocide. Within 100 days, 800,000 Tutsis and moderate Hutus were killed by militant Hutu soldiers and informal militias determined to wipe out the country's ethnic Tutsi minority.
The center's most moving tribute may be its Children's Room. In a sun-drenched space with bright orange walls, visitors learn the stories of 14 of the children who died in the genocide. They peer back at visitors from large photographs – toddling across a room, posing for a portrait, blowing out a first birthday candle.
Below the photos are short, poignant biographies: Francine, age 12, liked swimming; eggs; and "Fanta tropical," the local lemon-flavored soda. She was killed with a machete.
---