Six Picks: Recommendations from the Monitor staff
Mamet's latest on Broadway, an a cappella sing-off on NBC, a Tunisian oud player takes on jazz, and more.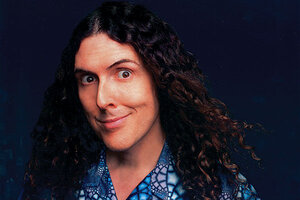 NCM Fathom
Wonderfully warped
"RiffTrax LIVE: Christmas Shorts-Stravaganza," featuring the stars of "Mystery Science Theater 3000" and guest "Weird Al" Yankovic (r.), is a live in-theater event taking place on Dec. 16, at 8 p.m. ET, in 482 movie theaters nationwide (with a taped delay for the West Coast). Based on the cult favorite TV show, it brings its offbeat humor to a series of seasonal short films and TV commercials. For ticket information go to FathomEvents.com.
On Dec. 14, 15, 16, and 21, NBC premières "The Sing-Off," a nationwide song hunt for the top a cappella singing group. The first three nights, ensembles will compete, "American Idol"-style, and the following Monday finale will feature the winner. Besides a national spotlight on their talent, the top prizewinners will take home a recording contract with Epic Records/Sony Music.
---