Designing for disaster
How the need for security leads to enhanced public spaces.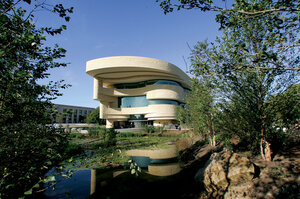 Dennis Brack/Newscom/File
"Something there is that doesn't love a wall," a Robert Frost poem begins. As the glee greeting the downfall of the Berlin Wall proved, this feeling is especially true for public spaces. But in a post-9/11 era when security concerns dominate, walls are rising, not falling.
"We've gone from being America the beautiful to America the besieged," says Blair Kamin, architecture critic for the Chicago Tribune and author of "Terror and Wonder: Architecture in a Tumultuous Age."
The mission facing architects today is fusing aesthetics and armor. In the aftermath of attacks on US embassies abroad, the 1995 truck-bombing of the Murrah Federal Building in Oklahoma City, and the 2001 terrorist takedown of the World Trade Towers, guidelines for government buildings and other potential targets such as museums and monuments assumed a quasi-military character. Architects had to grasp new concepts like ballistic-resistant design, learn new terms like "hostile-vehicle mitigation," and employ new products like blast-resistant glass. No longer is it enough to protect against rain, snow, wind, and fire; the architect's brief now includes minimizing threats from at-tackers. The challenge is to design defensively without offending aesthetically.
Architectural first responders erred on the side of bulk, converting vulnerable public spaces into fortresses.
---