Ravi Shankar bridged cultures by bringing sitar to the West, but at a cost
Ravi Shankar collaborated with some of the biggest names in rock, jazz, and classical music. But in India critics said he was commercializing spiritual sitar music that was not properly understood.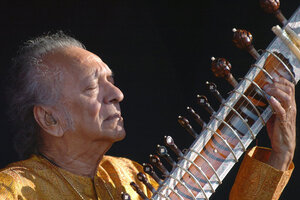 Sandro Campardo/Keystone/AP/File
Ravi Shankar, the Indian-born recording artist, is intrinsically linked to the sitar, the traditional steel-string Indian instrument he singlehandedly introduced to the Western world more than 60 years ago through collaborations with some of the biggest names in rock, jazz, and classical music.
His decades of ground-breaking work earned him recognition as an innovative giant for helping bridge the divergent musical strains of the two cultures – Beatles guitarist George Harrison referred to him as "the godfather of world music" – but it did not come without a price: the collaborations made him a controversial figure in his native country, and he often expressed regret that he may have overreached in believing contemporary audiences would comprehend the spiritual intent of his music.
Mr. Shankar passed away Tuesday in a hospital near his home in Encinitas, Ca. following surgery last week, according to his family.
Shankar, who was born in Varanasi, India, joined a dance troupe organized by his brother at the age of 10. The experience brought him to Paris and then New York City where he was first exposed to Western music via Louis Armstrong and orchestras led by Duke Ellington and Cab Calloway at Harlem's famed Cotton Club.
---