Monitor Picks
Ahead of Super Tuesday, we vote for our favorite candidates for the best election dramas.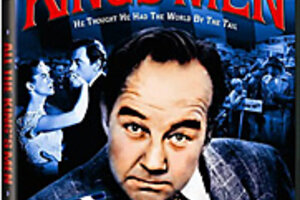 Courtesy of Barnes & Noble
Ahead of "Super Tuesday," a 24-state contest likely to determine the Republican and Democratic presidential nominees, here's a brief list of our favorite campaign-related movies (and two television series).
All the King's men
Skip the ineffectual 2006 remake with Sean Penn and go straight for the 1949 original version of Robert Penn Warren's novel in which self-styled man of the people Willie Stark (Broderick Crawford) whips up voters with messianic fervor to win the populist vote in a rural district. It's what happens to Willie in the aftermath of the election, however, that gives this classic its unexpected sting.
Tanner '88
This revered HBO series, written by Gary Trudeau and directed by Robert Altman, followed the trials and tribulations of Jack Tanner, a Democratic congressman from Michigan. Its achievement was to expose the theater of the absurd that surrounds a presidential aspirant. Sample quote, from Jack's son: "Dad? USA Today is on the other line. They want to know, if you could be a fruit or a vegetable, which one would you be?"
The West Wing
---