In Los Angeles, an architectural marvel is the new town square
The Broad Contemporary Art Museum eschews gift shops and restaurants in favor of dynamic galleries devoted wholly to art.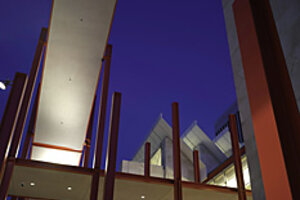 The quintessential image of Los Angeles is sprawl: endless freeways and far-flung neighborhoods without a center. No surprise the city's major museum, the Los Angeles County Museum of Art (LACMA), suffers the same malady. The 20-acre campus contains a hodgepodge of seven buildings stretching a third of a mile along Wilshire Boulevard. Until its recent, highly touted "transformation," the entrance was almost invisible.
"We had an architectural mess on our hands, and something had to be done," billionaire businessman and LACMA trustee Eli Broad admits in an interview published in a catalog heralding the debut of the new Broad Contemporary Art Museum (BCAM), which opened Feb. 16.
Philanthropist and civic leader Broad (pronounced Brode) who, with his wife, Edythe, has amassed an impressive collection of contemporary art, sought out veteran Italian architect Renzo Piano for a solution. The aim was not only to unify LACMA's campus and provide a showcase for contemporary art, but to give the entire city a focal point, the town square it so sorely lacks.
Piano designed a building to house rotating exhibitions of works from the Broads' collection, augmented by LACMA's holdings. He also devised a master plan to integrate the campus. On Wilshire, an installation by Chris Burden called "Urban Light" (202 vintage street lamps) marks the new entrance as triumphantly as klieg lights at a Hollywood première.
---