Robert Wilson's still lives in motion (barely)
Theater legend Robert Wilson's new exhibit at the University of Iowa aims to pioneer a new breed of plasma portraiture.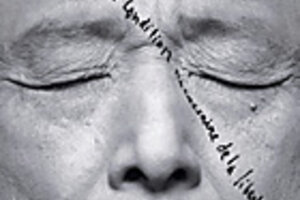 Courtesy of VOOM HD Network
What happens when you take Winona Ryder, Brad Pitt, Johnny Depp, the Queen of Morocco, an auto mechanic, and a panther and put them together in a museum?
For Robert Wilson, the answer is a fresh way of looking at art, and at the big, busy, brash modern world outside.
The Museum of Art at the University of Iowa has assembled a collection of Wilson's work – likenesses ranging from celebrities to poets, from authors to dancers and ordinary people (and animals). The portraits, shot in high-definition video, mount vertically on large plasma monitors, installed in collaboration with VOOM HD Networks, a corporation based in New York. A few hang in the Legion Arts building up the road, in Cedar Rapids. (Both exhibits run through March 30.)
But these are not your typical Renaissance portraits. They move. Not by much: there are blinking eyes, mouths chewing gum, and wind-blown dresses. The familiar figures become a bit unfamiliar and, in some cases, outright strange.
Stepping away from the paint and canvas of the traditional artist, Wilson uses the high-definition canvas of the 21st century. If the portrait painters of the past invited a quiet gaze to map the intricate detail of such still lifes, Wilson has created a new kind of portraiture.
Museum director Howard Collinson says that Wilson's VOOM work is an "amalgam of theatre and the visual arts, and that's what makes his work unique. Each piece can be seen as a small production."
---