Russian monastery anticipates the familiar toll of ancient bells
After 78 years, a set of 18 iconic bells rescued from a Moscow monastery will return home.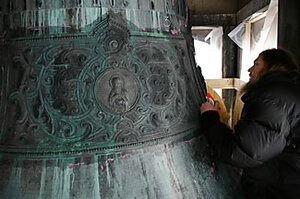 Courtesy of Diana Eck
As the chiming of bells rang through Harvard University's campus among a field of caps and gowns last week, it was the final time they would be heard – the end of an era for the university, but also a new beginning.
For the past 78 years, the 18 bells have hung high above Harvard's buildings, chiming on Sunday afternoons and every year at commencement. This summer, the bells will return home to ring at the Danilov Monastery in Moscow from which they were rescued in 1930 at the height of the Stalinist era, at a time when antireligion campaigns sought to destroy monasteries and melt down their ironwork.
In a world where artifacts are often stolen and seldom returned, the story of the Danilov bells is rare.
It all began in 1929 when American philanthropist Charles Crane was prompted by his agent Thomas Whittemore to save the bells from destruction. He purchased them from the Soviet government, which "was apparently desperate for money and was selling off everything of value – imperial Bokhara rugs, artwork, and church property," says Luis Campos, a Harvard alumnus and history professor at Drew University in New Jersey who has been researching the bells. They were transported by train from Moscow to Leningrad, he says, and then shipped to the US.
---