Scriptwriters pursue their screen dreams
Tapping technology, aspiring writers hope to break into the entertainment industry, but competition is fierce as thousands join the race.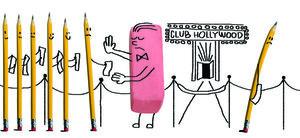 Scott Wallace - staff
Newly minted film school graduate Nick Naney envisions the moment "someone" asks about his screenplay, reads it, and wants to produce it. "It could happen," he says from his parents' home in Long Island where he lives while he starts his career.
Across the country, San Francisco Bay Area screenwriting hopefuls, Rick Popko and Dan West (they now have one microbudget film under their belt with another on the way), have been turned down by agents, studios, and producers. But someone at the Weinstein Company just asked for two copies of their first film, so they are "cautiously optimistic."
Fellow Californian Heath Davis Havlick continues her day job as a media relations specialist while she awaits word from the Welsh countryside, where her first screenplay to be sold "is supposed to go into production soon." The final piece of the picture, says Ms. Havlick, is for the remaining monies due to come in "anytime now," according to the director who has told the anxious newcomer that the film's budget is nearly complete and that once the final funding arrives, she will get a paycheck and the film will begin production.
---