Six picks: recommendations from the Monitor staff
Richie Havens's latest gently impassioned CD, sixties design in an electrifyingly colorful book, cable hit "Mad Men" on their second season, and more.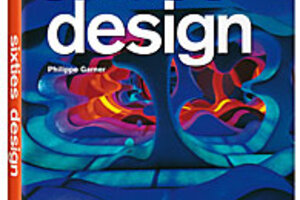 Courtesy of Tashcen
WAKING UP TO THE 1960S
This sumptuous, budget-priced book of electrifyingly colorful furniture, clothing, rock, and film posters manages to accomplish what few books about the sixties achieve. By adroitly sorting designs into space age and pop culture themes, British design maven Philippe Garner unearths the roots of sixties psychedelic fantasies in 1900 Art Nouveau. Better yet, he omits the usual Woodstock Festival photo panoramas and presents oddball images like protesters at Expo 67 wildly agitated about conflicting definitions of beauty. Sixties Design (Taschen, $14.99) is less eye candy for nostalgia seekers than a provocative sourcebook of design concepts spawned by a decade refusing to fade away.
Ad men, mad men
Fresh from their surprise, 16 Emmy nominations this past week, the men (and women) of the basic cable hit, AMC's Mad Men triumphantly return for a second season. This retro drama about the cutthroat world of Madison Avenue ad men in the 1960s is a high-gloss, high-concept, highly stylized dramedy of manners. Tune in July 27 at 10 p.m. ET to see where today's mass media really began.
what the neighbor said
You know what you think about your favorite or least favorite TV show, but only the government knows for sure what your neighbor thinks. Now with the help of a new website, tvshowcomplaints.org, it takes only a moment of your Internet time and form-filling skills to request copies of the earnest, occasionally hilarious, sometimes outrageous opinions of Americans about TV shows. Added plus: Once you master filling out the necessary Freedom of Information Act request, who knows for what better purposes you could use that skill.
---