Co-opting consumerism
'Manufractured' exhibition takes mass-produced objects and tames them into art.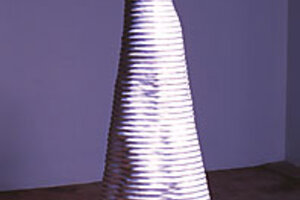 Courtesy of cat chow
Contemporary artists could show the writer of Ecclesiastes a thing or two. They directly challenge the oft-quoted lament, "There's nothing new under the sun" by constructing eloquent and unexpected art out of ordinary, mass-produced objects such as pocket combs and plastic bottles.
Artists have incorporated recycled materials such as glass, metal, and plastic for decades. The difference today is a focus on the use of brand-new, straight-off-the-shelf consumer goods, says Steven Skov Holt, who, along with Mara Holt Skov, his wife, organized the exhibition "Manufractured: The Conspicuous Transformation of Everyday Objects" at the Museum of Contemporary Craft in Portland, Ore.
The 15 artists in the exhibition manipulate consumer goods such as street maps, spools of thread, toy soldiers, and cellophane tape. They cut, stack, tie, fold, stitch, and mold the materials into new forms, often using painstaking handcrafting techniques. Their process finds parallels in the world of rap and hip-hop music, in which street noises and samples of other music are captured and remastered to create a unique sound.
Steven, who uses the example of hip-hop music in his introduction to the exhibition catalog, doesn't mind people making a link between the creative process of rap and that of contemporary craft. "Craft should be so lucky" as to enjoy the enormous popularity of hip-hop, he says with a laugh.
---