Black middle-class comes into view
Since Obama's candidacy, African-American professionals once invisible in mainstream America, are moving from prime-time fiction to everyday fact.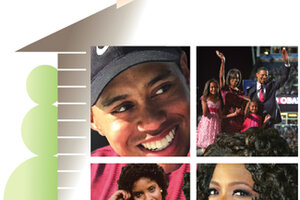 Scott Wallace – Staff
These tidy streets of well-manicured lawns and hedges gracing modest, but well-appointed California-style bungalow homes are Richard Nixon country, home to his alma mater and next door to his birth and burial place, Yorba Linda.
This has long been a bastion of conservative, white American Republicanism, says resident Lonnie Jordan, an African-American musician who lives in the Friendly Hills district of town. Married to a mixed-race wife whose mother was white and father black, Mr. Jordan says this was not always a comfortable place for a mixed-race couple. But, that has begun to change, he adds. The reason? The presidential aspirations of candidate Barack Obama.
"He's put the image of black families on the national dialogue," says Jordan. "Now I walk around and I don't feel odd or out of place. It's come out of the shadows and into the everyday light."
Middle-class, African-American life has been invisible to mainstream America for most of the 20th century, says American University professor Leonard Steinhorn, coauthor of "By the Color of Our Skin: The Illusion of Integration and the Reality of Race." This derives largely from what he calls the sin of decades of segregation in the suburbs, the traditional home of the middle class.
This began to change in earnest when "The Cosby Show" introduced the nation to the Huxtables, a charming, upper-middle-class family of seven who just happened to be black.
---