Orientalist paintings take a tour of modern Middle East
Exhibition of 19th-century visions of the 'exotic' Orient recalls the heavy history of colonialism.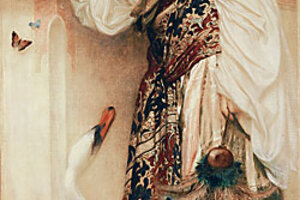 Birim Yöneticisi, Courtesy of Tate/Pera Museum
A GAGGLE OF EMIRATI art curators clad head to toe in black hijab paused in front of "Odalisque," British painter Frederick Leighton's sensuous portrait of a partially exposed Oriental beauty gazing indulgently at a long-beaked swan.
Kristine Von Oehsen, the British Council exhibition curator guiding the group, tried to persuade the delegation there was little scandal in the discreet nudity, but the all-female group of Emiratis looked unconvinced.
Such cultural dissonance is part of putting on a show on a topic as controversial as Orientalist painting, then taking it on tour to the Muslim world. This effort at cultural diplomacy by the British Council, the British government's cultural arm, will move to Dubai's Emirati neighbor Sharjah after its show in Istanbul ends in January 2009.
"What makes 'The Lure of the East' different is that the subject is politically and culturally charged, certainly more so than the vast majority of exhibitions that we do," says Christine Riding, the exhibition cocurator and a specialist in 19th-century British art. "The idea of cultural diplomacy or dialogue between the tour venues and their audiences is that much more apparent and resonant."
---