New York's freshest shows
From ancient sculpture to Van Gogh's night inspirations, the best of this season's art.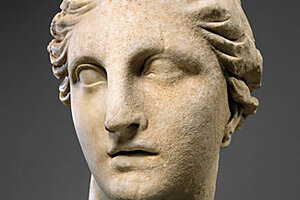 COURTESY OF THE METROPOLITAN MUSEUM OF ART
New York puts on its sparkly best for the holidays, and this season's art offerings are equally glittery.
• The Metropolitan Museum of Art offers a tribute to its esteemed director, retiring after 31 years, in the form of a gala exhibition: "The Philippe de Montebello Years: Curators Celebrate Three Decades of Acquisitions" through Feb. 1. With 300 objects representing the crème de la crème of the 84,000 works collected during de Montebello's tenure, the show's a holiday treat.
Arranged chronologically by the year acquired, the pieces strike up a dialogue across the 5,000 years of their production. A wooden Kongo power figure from the second half of the 19th century, stabbed all over with nails to release its power, personifies force. The carved figure of a man seems to speak across the ages to a Jackson Pollock drip painting, "#28" (1950), which embodies another kind of force, also bristling with primeval energy.
The paintings are a trove of masterpieces: from Rubens to Rothko. As for sculpture, a massive, antique "Head of Athena" serenely communes with Brancusi's sleek, white arc called "Bird in Space" (1923). A 1904 Charles Rennie Mackintosh oak washstand, ornamented with blue tile and mirror-glass petals, shines opposite an evening gown (circa 1965) by Madame Grès, its silk folds falling like streams of water.
---