Big Easy's new biennial energizes arts community
Influx of foreign art work around the city is complemented by 'unofficial' local installations.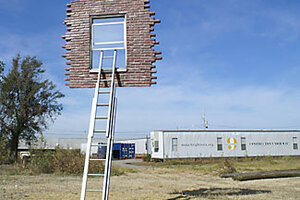 Bill Sasser
Art has often been championed as a vehicle for urban redevelopment, and perhaps in no other recent time and place has the notion been so tested as it is now in New Orleans. On St. Claude Avenue in the city's Ninth Ward, where a new international art biennial is vying for attention with a resurgent local art scene, it seems to be working. While the project is still an endeavor in progress, the once-blighted neighborhood has a palpable energy and excitement and is making significant strides, with art at center stage.
Billed as the largest exhibition of contemporary art ever held in the United States, the new biennial, called Prospect.1 (www.prospectneworleans.org), has brought 70 international visual artists to the still-recovering city. High-flying art collectors and museum officials were in attendance for its Nov. 1 opening, and the biennial is expected to draw 50,000 visitors through its close on Jan. 18. Exhibition spaces range from the Contemporary Arts Center – where works by 20 artists, including Cuban painter Luis Cruz Azaceta, young Chinese artist Cao Fei, and Amsterdam-based photographer Fiona Tan, are displayed on four floors – to empty lots in the hurricane-ravaged Lower Ninth Ward. There Argentine artist Leandro Erlich's "Window and Ladder – Too Late for Help" offers a surrealist-inspired take on disaster response, and Jamaican-born sculptor Nari Ward has created one of her cubist installations of reclaimed objects inside a gutted Baptist church.
---