Cities shed artful light on the canvas of night
As lighting moves beyond its utilitarian role, urban planners are embracing it as a way to showcase a city's character.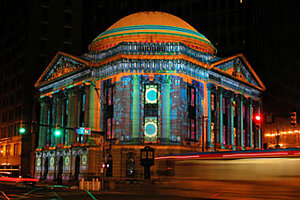 Friedrich foerster/Sabine Weissinger/Casa Magica/Art Lumiere
Few art forms rival lighting – with its capacity to alter mood, focus attention, or invite wonder. For most of human history, illumination depended on a source of fire, and public lighting displays were as infrequent and fleeting as fireworks on the Fourth of July. Today, artists possess the technology to raise lighting to unprecedented levels, both in their art and in the streets.
Light serves a number of purposes, not the least of which is to enable us to move around safely at night. But after that basic requirement is met, artists have found themselves looking for new uses for light, whether in single installations or large-scale displays found in lighting festivals. Some have gone so far as to join with municipalities and urban planners to bring lighting design to the table, along with architecture, as a means of improving a city's character and livability.
Lighting designer Duilio Passariello in Madrid says his goal is to bring out the flavor of each location and turn that flavor into a "nocturnal feature."
"We're obsessed with lighting the horizontal plane because we view lighting as mostly functional, but rarely for the visual pleasure of the inhabitants," he writes in an e-mail. Such thinking moves lighting from an afterthought to a central role. Where once lighting was static and uniform, now it has the flexibility to set a mood or broadcast the city's identity across the skyline.
---