Six Picks: Recommendations from the Monitor staff
Write an inaugural speech for Obama, learn where the real dragons live, listen to Bonnaroo in the dead of winter, and more.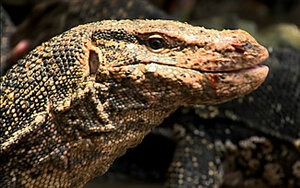 Courtesy of WNET.ORG/Icon Films
Friends, writers, countrymen
If you've ever wanted to be a presidential speechwriter, it's time to test your soaring rhetoric – with the help of Lincoln, JFK, and all the other presidents. As you type your eloquent prose into www.mixedink.com/Slate/InauguralAddress, the software alerts you to similar phrases used by past presidents or even your fellow citizens working on their speeches. Take their cues or stick to your own words. On Jan. 19, the best speech – a group effort – will be posted on Slate.com in time for the inauguration.
Playing president
Like to try your hand at fixing the US economy? How about passing a new gas tax in France? Or negotiating building contracts in China? Soon you can assume the leadership of any country by playing Commander in Chief from IGS Inc., a new PC video game coming out on inauguration day. The preview trailer was released this week at www.commander-in-chief.net. (Note: the game is rated mature for mild sexual themes, strong language, and violent references.)
Here be dragons!
Dragons are fanciful creatures – fire breathing, maiden eating, and slain by fairy tale heroes. Or are they? Famed herpetologist Romulus Whitaker takes us on a science-based journey into the foundations of the many dragons that have appeared in stories from the beginning of time. It's a tossup which is the spookiest – the blind, albino salamander or the venomous spitting cobras or the island-dwelling Komodo dragons. The Dragon Chronicles airs Jan. 11 on PBS Nature at 8 p.m.
Bonnaroo redux
---