Six Picks: Recommendations from the Monitor staff
Watch the world from the front page, dip into DJ'ing, savor Steinbeck's classic 'East of Eden' on DVD, and more.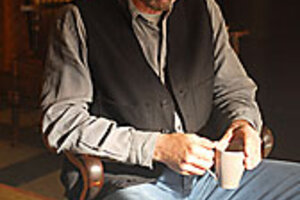 Courtesy of Chris Reardon/CBS
stone in hot water
Tom Selleck reprises his role as a small town police chief with a conscience, a history, and more than a few problems, most of his own making. A modern, darker take on the classic loner TV cop/detective, the Jesse Stone franchise is surprisingly satisfying both as drama and detective work. Jesse Stone: Thin Ice, which mires Stone in a kidnapping and a shootout, airs March 1 at 9 p.m. on CBS.
History Bytes
This week the History Channel launched a 13-episode, original Web series called "Great and Telling Tales" with historian and storyteller Timothy Dickinson. These quirky two-minute animated history "snacks" offer a humorous take on such offbeat subjects as the death of Rasputin, the struggle to make people believe in dinosaurs, and enormous subjects such as the history of drugs. Check them out at www.history.com/timothydickinson.
steinbeck classic
Fans of Jane Seymour can now get their hands on what the actress considers the best role of her career in the 1981, award-winning six-hour miniseries, East of Eden, available on DVD March 3. Enough time has passed that the pacing will feel, let's just say "measured" to some folks. But the series holds up well in this version of what John Steinbeck himself considered his quintessential novel.
'The Thinking Read'
---