Six Picks: Newspaper movies we recommend
Six of our favorite newspaper flicks full of intrepid reporters, romance, and quick-witted repartee.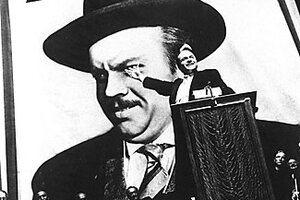 NEWSCOM
'Citizen Kane' (1941)
One of American cinema's greatest films celebrates the rise of newspapers in the first half of the 20th century. Charles Foster Kane, modeled on William Randolph Hearst and other early moguls, builds his media empire with sweat and idealism, only to lose it lusting after fame and power. Kane utters some great lines about his profession, among them, "I don't know how to run a newspaper, Mr. Thatcher. I just try everything I can think of."
'Woman of the Year' (1942)
The first of the celebrated Katharine Hepburn-Spencer Tracy films, their fiery chemistry is on full display in this Oscar-winning romantic comedy. Tess Harding is a cosmopolitan political affairs columnist at the same newspaper as Sam Craig, a pull-yourself-up-by-the-bootstraps sportswriter. Using their columns to spar, they eventually come round to a more amorous stance. Yes, even columnists have hearts.
'ALL THE PRESIDENT'S MEN' (1976)
---