The 'land art' of Andrew Rogers
Australian sculptor brings a rare civic vision to his geoglyphs the world over.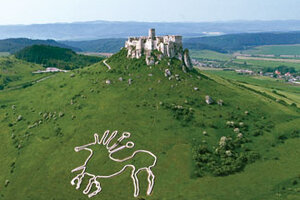 Courtesy of Andrew Rogers
Australian sculptor Andrew Rogers has rocks in his head. "I talk about rocks in the morning," he admits, "and I talk about rocks when I go to bed." He also does a good bit of heaving them about, for rocks are his chosen material in building 32 monumental land-art works on five continents over the past 10 years.
Lilly Wei, curator of "Odysseys and Sitings," an exhibition of photographs of Rogers's projects running until May 13 at the nonprofit gallery White Box, says, "Andrew – well, he thinks large."
"Large" is an understatement. Rogers makes geoglyphs, piling up tens of thousands of tons of stones up to 14 feet high to outline stylized shapes. His forms cover 430,000 square feet, the largest contemporary land-art project in
the world. The sculptor uses walls of rock to "draw" a spread-wing eagle the size of a football field in Australia, a lion in Sri Lanka, a llama in Bolivia, a labyrinth in Nepal, and a Celtic horse in Slovakia. To what end? "I want these to become a fulcrum for contemplation about what's important," he says, specifying "the values we need to take forward to have a wholesome society."
"Andrew's projects are appealingly, profoundly quixotic, a combination of life and art, installation and performance, altruism and self-fulfillment," according to Ms. Wei, writing in a new book on the work, "Andrew Rogers: Geoglyphs, Rhythms of Life."
---