Fleeting architecture
As novelty and sustainability drive design, more structures are deliberately temporary.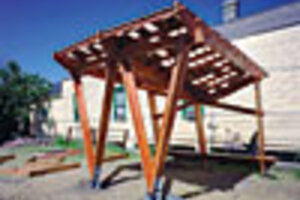 Cynthia Smith/Design for the other 90%
From a proposed temporary main stadium at the heart of Chicago's 2016 Olympics bid, to newly designed ecofriendly shelters with a shelf life of 18 months being sent to Afghanistan, to a gallery enclosure for the 2008 Venice Biennale made entirely of string, the walls that define modern living space – the architecture of today – are becoming increasingly ephemeral. Driven at one extreme by a cultural thirst for "the new" and at another by rising global needs of displaced populations, this dematerialization will only continue to expand, say architects and cultural analysts. And as money for big-ticket buildings runs scarce and pressures to reduce humanity's environmental impact mount, a symbiosis between experimental and utilitarian elements in the architectural landscape can only grow.
"We are becoming a temporary society," says New York architect Marc Spector.
"There is an accelerating temporality to modern life," says Los Angeles designer Benjamin Ball, whose firm, Ball-Nogues specializes in provisional structures.
---