Six Picks: Recommendations from the Monitor staff
The interactive Frank Lloyd Wright, 'thirtysomething' on DVD, return of the iconic Spy vs. Spy, and more.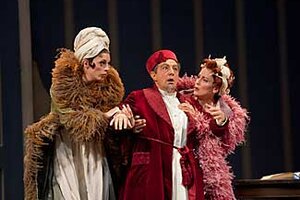 Metropolitan Opera/PBS
Opera with a happy ending
The Cinderella story returns in Gioachino Rossini's "La Cenerentola," in PBS's "Great Performances at the Met." This 19th-century retelling may be sans pumpkin, fairy godmother, and even a glass slipper, but it makes up for that and far more with the glorious bel canto of the lush, New York Metropolitan Opera production. Tune in for that and the starmaking performance by mezzo-soprano, Elina Garanca. The show airs Aug. 15 in high definition (check local listings for the time).
Do the Wright thing (interactively)
Nothing can equal the actual experience of visiting a Frank Lloyd Wright dwelling, but technology has virtually brought Wright's art as close as your computer monitor. "Frank Lloyd Wright's Home and Studio" (in-D Press, $35), a two DVD set, offers a thoughtful, balanced, hour-long documentary, notable for candid remarks from Wright's grandson Eric about his granddad's charming irascibility. It also includes an awe-inspiring interactive tour, spiced with viewer-controlled, panoramic sweeps of Wright's first residence that also served as his first laboratory for refining his distinctive architectural style.
Back to the '80s
Fans of the groundbreaking late-1980s show "thirtysomething" can now finally watch the entire first season of 21 episodes when it arrives on six DVDs from Shout! Factory Aug. 25. Since the show prefigured so much that became routine in later TV dramas – swift, naturalistic dialogue with a far more cinéma vérité style of shooting – it holds up remarkably well after all these years.
---