Six Picks: Recommendations from the Monitor staff
Catskill folkies, Discovery Channel on a world of ancient relics, a look at real high school musicals, and more.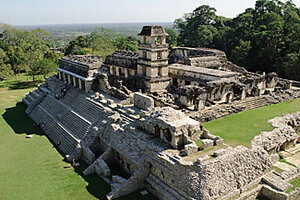 Keith Dannemiller/ Discovery Channel
PYRAMID BUILDERS
We all know Egypt's pyramids, but the Discovery Channel's new six-part series, "Out of Egypt," sets out to show how much we can learn about other cultures when seen through the lens of ancient Egypt. On Aug. 24 at 9 p.m., the series begins with a trip through the world of ancient relics, then at 10 p.m., moves on to pyramids, traveling to the towering polyhedrons of Sri Lanka, Peru, and the more familiar sacred monuments of the Mayan and Aztec civilizations. The final four episodes will air later in the fall.
OUR MAN IN MOGADISHU
Agent Michael Teak is brilliant, good-looking, idealistic – and in way over his head in Nick McDonell's latest novel "An Expensive Education." The spy thriller toggles back and forth between Harvard University and Africa as Teak tries to make sense of a civilian massacre apparently aimed at a freedom fighter he thought the US was supporting. The drunken Harvard revels feel indulgent, but Teak himself is a keeper.
STORYTELLING TUNES
A blogger comments that The Duke & the King's lead singer and songwriter, Simone Felice (The Duke), is "like John Lennon, incapable of being uninteresting." Felice, along with his partner Robert Burke (The King) form a folk duo from the Catskill Mountains of New York that has just released a timeless-sounding new CD, "Nothing Gold Can Stay." Self-recorded in a converted shed, it's a hushed and intimate affair that features Felice's haunting voice spinning wistful tales of demons and angels, broken soldiers, and powder-blue Camaros. It's the unmistakable sound of a star ascending.
---