Photojournalism enters a golden age
As the importance of real-time news and images rise, photojournalism is gaining greater cultural currency.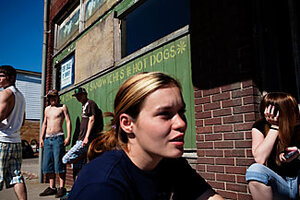 Courtesy of Matt Eich/ Aurora Select/ The Alexia Foundation/ POYI
Now in its 66th year, one of the world's oldest news photo competitions, "Pictures of the Year International" (POYI), enjoys new life in the just-opened Annenberg Space for Photography, here in the backyard of the entertainment industry.
The arresting images tell their own stories: a woman whose face has been melted by acid, Michael Phelps's hair's-breadth win in the Beijing Olympics, the aftermath of the China earthquake. At the same time, the exhibition itself is a good lens through which to view the swiftly evolving field of photojournalism, say photographers, educators, and industry analysts.
"We're moving into what I would call a golden age of photojournalism," says William Snyder, four-time Pulitzer Prize-winning photographer, who points to the "amazing proliferation of opportunities for visual storytellers to ply their trade." These range from self-publishing on the Internet to the explosion of reality-based entertainment.
This may seem paradoxical in an era of newspapers and magazines downsizing and disappearing "with discouraging frequency," says Mr. Snyder. At the same time, he adds, the overall culture has become saturated with visuals. Beyond that, the flowering of reality television and the overall cultural premium placed on real-time information has opened the way for a greater appreciation of the sometimes unsettling realities that lie at the heart of good photojournalism, he says. "Reality is popular now in a way that it certainly wasn't in the early days of photojournalism."
---