Shredding war's dark memories
Iraq war veterans release their angst by turning their uniforms into paper.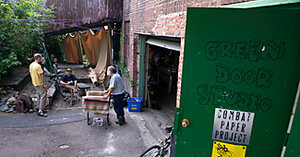 Melanie Stetson Freeman/Staff
Pair of scissors. Army uniform. Catharsis. Art.
Iraq war veteran Drew Cameron found his way back into civilian life by cutting up his uniform and turning the fabric of war into handmade paper. He imprinted the paper with poetry and self-portraits. He invited other veterans to join him in "liberating rag."
Now, a whole community of veterans, scattered across the United States and beyond, finds a certain solace in the craft and in the companionship.
Jennifer Pacanowski thought the idea was silly at first. But when she attended one of Mr. Cameron's papermaking workshops during a gathering of war veteran writers in Massachusetts, she was surprised by how it gripped her. "I just started cutting my uniform up, and before I knew it, I was sweating and my hand was bleeding," she says in a phone interview. "It was so satisfying, I can't even describe it.... It's so freeing, like just destroying a really bad memory."
The memory stems from Ms. Pacanowski's time as an Army medic in Iraq in 2004-05, and from the post-traumatic stress disorder with which she was later diagnosed. Three things keep her going, she says: her writing, her service dog Boo (trained to help sense an oncoming anxiety attack), and her connection with Cameron's Burlington, Vt.- based Combat Paper Project.
"I can write about Iraq in my poetry, but [the fact that] I can put it on my uniform – it's a pretty incredible concept," Pacanowski says. After she travels to the Vermont studio from her Pennsylvania home, she sleeps better because papermaking can be physically exhausting. More important, she breaks out of a sense of isolation: "In Vermont, everything seems to flow better because I have so many people around me who know what I'm going through."
---