Madeleine Albright: Read My Pins
As a diplomat, Albright enlisted her jewelry to send signals – some more pointed than others.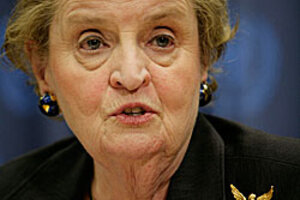 Newscom/File
Most people's jewelry just says "bling." Not former Secretary of State Madeleine Albright's gems. For a meeting with Yasser Arafat, the message of Ms. Albright's brooch – a two-inch-long gold bee with diamond-studded wings and garnet eyes – was "sting."
"I spent many hours wrangling with the Palestinian leader about the need for compromise in the Middle East," she writes in her book, "Read My Pins: Stories From a Diplomat's Jewel Box" (HarperCollins, 2009). "My pin reflected my mood."
More than 200 pins are displayed at the Museum of Arts and Design in New York through Jan. 31 in an exhibition titled "Read My Pins: The Madeleine Albright Collection." The show will travel through 2010 to the William J. Clinton Presidential Library in Little Rock, Ark., as well as to venues in Washington, D.C., and Indianapolis, Ind.
In introducing her collection, Ms. Albright, reminisced about the origin of her strategically deployed ornaments. "I clearly have always liked jewelry, but it had not occurred to me that they could, in fact, become part of diplomacy. It all began with Saddam Hussein."
---