Museum of Chinese in America opens in New York
The exhibits, which narrate 200 years of struggle for the Chinese in the United States, puncture old stereotypes and some that still lurk.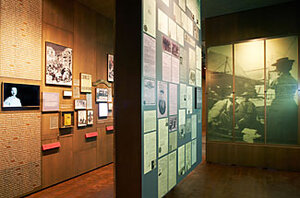 Courtesy of Maya lin Studio/Moca
New York boasts a brand-new museum, the Museum of Chinese in America (MOCA), which is noticeably different from others. Many of the artifacts were salvaged from the detritus of Chinatown: straw sandals from Mott Street, an eight-foot sign advertising a Chinese laundry, and shelves from a general store being dismantled on the Bowery. Forget bidding at auction for precious items like jade and lacquer. Dumpster diving was one tactic to assemble the collection. "We don't have spectacular pieces that fetch a lot of money at Christie's," says S. Alice Mong, MOCA's director, "but letters and things that are memories, stories, and histories."
MOCA began 30 years ago as a grassroots organization founded by Charles Lai, a community activist who grew up in Chinatown, and historian John Kuo Wei Tchen. "When Charlie and I started," Mr. Tchen says, "there was no place to find true stories of the Chinese in New York, although there were plenty of places to find stereotypes."
The Tony Award-winning playwright David Henry Hwang agrees. When researching Chinese history for his plays like the 1988 hit "M. Butterfly," the lack of documentation, he says, showed "a vacuum of information about this important group and important piece of the American story."
---