A celebration of Mexican art
Art institutes around Los Angeles pull out all the stops in honor of Mexico's bicentennial with a rich display from its 3,000 years of history.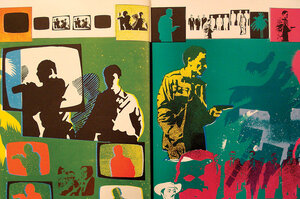 Courtesy of the Museum of Latin American Art
Mexico marks two milestones this year: the bicentennial of its independence and the centennial of its revolution. To honor the dual anniversaries, arts institutions all over Los Angeles are mounting shows that trace Mexican culture from its earliest Olmec peoples more than 3,000 years ago, through the Mayan and Aztec empires in the time of Spanish conquest, on up to the most cutting-edge contemporary conceptual artists turning history and tradition on their heads.
Taken as a whole, these collections form a coherent vision of the emergence of a great civilization over time, not merely isolated moments, says Selma Holo, director of the International Museum Institute at the University of Southern California. "This kind of comprehensive look gives Mexico the respect of having a civilizational series of curves, not just a modern history but one that goes way back and really represents a huge cultural moment in the history of the world," she adds.
Mexican artist Artemio, who goes only by the single name, is part of the first wave of shows to open across the city. His installation, in the towering lobby of the midtown Pacific Design Center, is a grid of ocher-toned paving stones with what appear to be lacy motifs, much as the decorative tiles that adorn many upscale haciendas south and north of the border might have had. But closer inspection reveals the lilting designs to be made up of a repeating sequence of revolvers.
"I wanted to show that we have turned the violence that haunts our culture into nothing more than mere decoration," says the creator, dressed all in black with a tiny silver "A" on his lapel. "We don't want to see it or hear it or deal with it, so it comes across our televisions just like another form of entertainment or like another piece of wallpaper in our living rooms."
---