Six Picks: Recommendations from the Monitor staff
HBO's World War II blockbuster 'The Pacific,' Norah Jones's new tour, 'Up in the Air' on DVD, and more.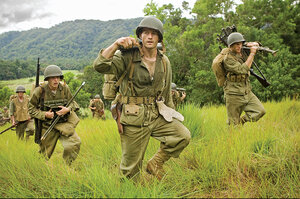 HBO
Brave hearts
Images of young soldiers slogging through the heat and witnessing combat horror in foreign lands is always a good reality check for a generation ready to complain about the temperature of a Starbucks latte. For the latest revisiting of World War II and what the "greatest generation" went through to preserve the freedoms many of us enjoy today, tune into "The Pacific," from Steven Spielberg and Tom Hanks, HBO's blockbuster 10-part series debuting March 14 at 9 p.m.
Stories of old
Just in time for Easter, Sony Pictures Home Entertainment will begin rereleasing on DVD its well-received "The Bible Stories" TV series. The first two films, "The Bible Stories: Jesus," starring Jeremy Sisto, Debra Messing, Jacqueline Bisset, and Gary Oldman; and "The Bible Stories: Esther," starring Louise Lombard, Thomas Kretschmann, and F. Murray Abraham, arrive March 2. Shot in Morocco and Malta in conjunction with Christian, Jewish, and Muslim Scripture scholars, these movies were created by the largest television coproduction in history.
---