Six Picks: Recommendations from the Monitor staff
New spectacular nature series narrated by Oprah, Preservation Hall Jazz Band's must-have album, a modern-day warrior's life on the History channel's 'Samurai,' and more.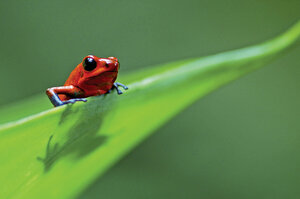 Discovery Channel
Knight life
Martial-arts expert Mark Dacascos tracks the life and story of Miyamoto Musashi, Japan's most famous warrior, in "Samurai," debuting on History, March 16 at 8 p.m. Dacascos, a modern-day fighter and son of two martial-arts teachers, explores both the brutality and appeal of a life devoted to rigorous discipline, technical brilliance, and, above all, honor.
Keeping jazz alive
No jazz ensemble is more storied than the Preservation Hall Jazz Band in the heart of New Orleans. Generations of players have rotated through, keeping the city's classic songs alive. "Preservation" (Preservation Hall), a benefit recording for the band's outreach program, is a special treat. Over 20 guest vocalists take turns on these time-honored songs, such as Tom Waits romping through a Mardi Gras classic ("Tootie Ma Is a Big Fine Thing") and Merle Haggard smoothly delivering the standard "Basin Street Blues." A must-have for anyone needing a primer on this rich chapter of American music.
Shearer laughs
Headline news may not normally make you want to sing, but you might change your tune when you hear satirist Harry Shearer's take on recent events. His new album, "Greed and Fear," a compilation of 12 songs, lampoons everything from the GM, bank, and brokerage bailouts to troubled assets and the values that created the market collapse. Available as a digital download at www.courgetterecords.com.
---