Tibet tour: Go to the heart of its Buddhist sacred art in a new Washington exhibition
'In the Realm of the Buddha' offers a rare glimpse into Tibet's sacred art and reveals a history largely lost.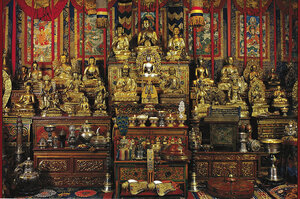 Courtesy of John Bigelow Taylor
As a collector of Tibetan Buddhist art, Alice Kandell was off the radar screen of the art world, keeping her exquisite objects in what had been the dining room of her Manhattan home. Her collection, unique in quality and size, "has been a secret," according to Dr. Kandell, a retired child psychologist, "never seen except by friends."
It's a secret no more. A sumptuously illustrated book, "A Shrine for Tibet: The Alice S. Kandell Collection," with essays by renowned Tibetan scholar Robert Thurman and art expert Marylin Rhie, has been published by Tibet House US. The artworks – gilded statues and scroll paintings, as well as banners, painted furniture, and ritual objects – are also the centerpiece of an exhibition, "In the Realm of the Buddha," at the Arthur M. Sackler Gallery in Washington, D.C., through July 18.
"None of the objects have been shown publicly," according to Debra Diamond, the Sackler's curator of South and Southeast Asian Art. Not only are the works unfamiliar, but the manner in which they're displayed is a departure. Organized as a sacred shrine rather than set on pedestals or hung on walls with labels, the assembled pieces, Ms. Diamond says, "offer a powerful aesthetic revelation."
---