Top Picks: Mose Allison, Saturday Night Live, inaugural celebrations, and other recommendations
Mose Allison's latest CD 'The Way of the World,' 10 years of 'SNL' on NBC in 'Saturday Night Live in the 2000s,' 'The Official Inaugural Celebration' on DVD, and more top picks.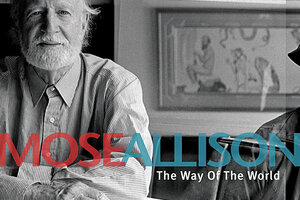 Anti Records
Sage songs
Mose Allison hasn't lost his jazzy piano chops, bluesy vibe, and Beat poet demeanor on "The Way of the World," his latest CD. At 82 years old, his voice is still hipster smooth. The tune "Crush" showcases his piano virtuosity, sampling boogie blues, swing, and bebop in a three-minute aural joy ride. On "Ask Me Nice," Allison sings, "I'm just tryin' to swing my way through life." Yeah. Cool.
Hidden history
As part of the annual, week-long Days of Remembrance, PBS airs "Among the Righteous: Lost Stories From the Holocaust in Arab Lands" on April 12 at 9 p.m. – a history of the half-million Arab Jews in North Africa under Nazi rule. The show addresses lingering Holocaust denial by asking the question, did any Arabs help Jews during World War II – and finds the affirmative answer to be as difficult to unearth as it is rewarding to document.
Inaugural bash
---