POW! Online comic books start to pull fans to the Web
Online comic books offer a more immersive experience, even as collectors savor hard copies.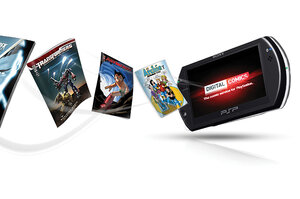 Sony Computer Entertainment America
Last month an online auction house here unloaded a 1938 issue of Action Comics for $1.5 million, the highest sum ever fetched for a single comic book. The sale of Action Comics No. 1, which features the debut of a handsome, caped hero named Superman, was widely touted as proof of the health of the collectible market – and the lengths to which die-hard collectors will go to obtain mint-condition copies of their favorite comics. It was also a chance to honor that increasingly endangered species: the pulp-and-paper comic.
In the past year, the comic-book industry has begun to lurch away from its roots in print publishing, and toward a future where the majority of comics fans will consume them online. Already, Marvel Entertainment and DC Comics, the two leading comics houses, offer many titles on the Web, either through subscription services or, in the case of DC, a sprawling alternative Web comics site. Marvel has made comics available for the Sony PlayStation Portable platform and the Apple iPhone; independent publisher Image Comics allows readers to read some books online free of charge.
"We are at an incredible point in time, where there's this massive shift in how people are consuming comic books," says Gareb Shamus, the founder and CEO of the comics magazine Wizard. "That cumbersome process – creating a product, printing it, shipping it; that worked for a very long time. But with the ease of access on the digital side, the barriers are getting broken down."
---