Evolution of the high school poet
A network of after-school programs draws teens into the world of spoken-word and slam poetry.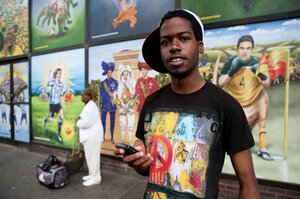 Taylor Weidman/The Christian Science Monitor
On a humid day this spring, long after the last school bell of the day has rung, 17-year-old Jah-Don Hart is sitting at a table in a classroom at a Crown Heights recreation center surrounded by a gaggle of friends and acquaintances, spitting out a stanza of improvised verse. Poetry is not something that Jah-Don has always loved. Not that he had anything against it – his dad is a poet – but for many years, Jah-Don preferred the solace of a good pair of wraparound, noise-canceling headphones. Now he writes poetry in every spare moment, sometimes recording his thoughts on paper and sometimes typing the verses into the notebook application on his BlackBerry.
He is a natural poet. His mentor, Trish Hicks, once told him that "there's nothing you need you don't have already," which sounded – let's face it – ridiculous at first, but the more Jah-Don thinks about it, the more he understands what she meant. He has found his best poems are colloquial and conversational, but slavishly metered; they roll off his tongue in fluid, supple bursts. "Lyrical seizures in leisure tease poetic diseases into exponentially multiplying," the teen recites now, tapping the tabletop with one fingernail to maintain a steady beat. "Potentially for the core of assembling emotional trembling."
There is a moment of silence, and then one of the kids to his right howls, and soon the whole crowd – eight or nine students, all poets themselves – is howling, too. Jah-Don pulls the brim of his blue "X-Men" ball cap over his face, but it's no use: His smile is six yards wide.
---