Top Picks: 'The Last Station,' 'A Capitol Fourth,' Tanglewood, and more recommendations
'The Last Station,' featuring Christopher Plummer as Leo Tolstoy on DVD, PBS hosts 'A Capitol Fourth' from Washington D.C., the annual Tanglewood music festival begins, and more top picks.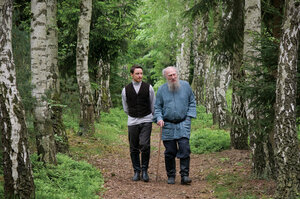 Courtesy of Sony Pictures
Tolstoy's great love
"The Last Station" chooses the final days of Russian literary icon Leo Tolstoy as a framing device for a life full of great passion and great ideas. Two acting heavyweights, Christopher Plummer and Helen Mirren, face off as the writer and his wife of 48 years in an acting tour de force. For those who enjoy their history through the grand biopic lens, this is both popcorn and meaty stuff, indeed. Arrives on DVD and Blu-ray with lively extra features on June 22.
Songs in an aboriginal key
Geoffrey Gurrumul Yunupingu grew up on a remote island off Australia's north coast. Born blind, he took up playing the guitar and has since become an international sensation, this first album going double platinum. The appeal is his simple but poignant folk songs, telling of ancestry, country, and home. Backed by guitar, occasional bass, and vocal harmonies, his clear voice seems fragile yet unwavering. The 12 songs on "Gurrumul" (Dramatico, $13.98), are all in local dialects except for "Gurrumul history (I was born blind)," his own story.
Fired up for the fourth
---