Edward Burtynsky and Ansel Adams: A pairing of devastation and beauty
In a new exhibition, Ansel Adams's iconic nature images are contrasted with Edward Burtynsky's industrial scapes of rock quarries, coal heaps, and rusty ships.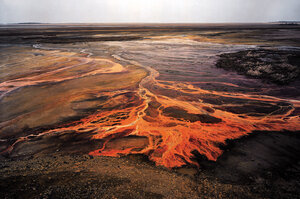 Courtesy of Hasted Hunt Kraeutler/Nicholas Metivier Gallery/Shelburne Museum
Last month, Stephan Jost felt jittery, not because he was curating the Shelburne Museum's inaugural photography exhibit, but because the exhibit presents more than 60 prints by 20th-century American photographer Ansel Adams and contemporary Canadian photographer Edward Burtynsky – artists whose respective works, on the surface, seem diametrically opposed.
"Ansel Adams and Edward Burtynsky: Constructed Landscapes," which runs through Oct. 24 at the Vermont museum, features four rooms of Adams's signature black-and-white wilderness photographs and three rooms of Burtynsky's color photographs of rock quarries, coal heaps, and rusty ships in North America and Asia.
"This pairing makes both of them look better," says Mr. Jost. "It makes Adams more interesting and relevant, and it makes Burtynsky look aesthetically stronger, because he can stand up to Adams's work."
When Adams died in 1984, he left a formidable legacy: The San Francisco native's photographs of the American West promoted photography as a fine-art medium and created iconic visuals for the American conservation movement. In a 2001 introduction to a major Adams retrospective, the San Francisco Museum of Modern Art called him "one of the century's great modern artists."
---