Beijing treasures: a hidden world on view
In a rare exhibit, treasures from a Chinese emperor's private retreat in the Forbidden City are on display at the Peabody Essex Museum.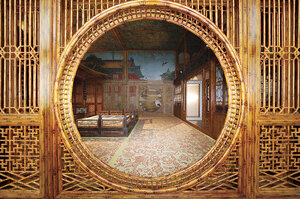 Courtesy of the Peabody Essex Museum
As Americans declared their independence in 1776, on the other side of the world, an introspective emperor was celebrating the completion of his opulent retirement compound in Beijing's Forbidden City.
The Qianlong Emperor spared no expense in assembling this group of 27 structures, including pavilions, gazebos, and a private theater, on two acres in the northeast corner of the Forbidden City, a fortified enclosure that was China's seat of power for 500 years.
Although he kept other palaces, the emperor intended the Qianlong Garden complex to be his personal retreat. To that end, he commissioned the finest Ching Dynasty-era craftsmen to create exquisite furnishings, carvings, screens, and wall murals.
One hundred and forty-eight years later, in 1924, the last emperor, Puyi, left the Forbidden City, sealing the gates behind him. In all that time, successive emperors had followed an edict forbidding changes to the Qianlong Garden.
Revolutions came and went. China became a Communist state and eventually opened parts of the vast Forbidden City to its citizens and tourists. But the Qianlong Garden remained closed and forgotten, asleep beneath layers of dust.
Now, the emperor's retreat is being uncovered and restored, and 90 of its furnishings have arrived in the United States for a rare showing before they are permanently reinstalled in the Qianlong Garden. "The Emperor's Private Paradise: Treasures from the Forbidden City" is on display at the Peabody Essex Museum (PEM) in Salem, Mass., and will travel to New York and Milwaukee in 2011.
---