Riding shotgun: Lee Friedlander photographs from the car
Distinctive Lee Friedlander photos open a window on America's deep car culture.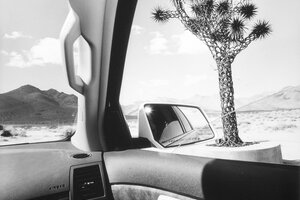 The Whitney Museum
Dinah Shore had it right when she sang, "See the USA in your Chevrolet!" In a project called "America by Car," photographer Lee Friedlander parks the car in the literal foreground. An exhibition at New York's Whitney Museum of American Art until Nov. 28 features 192 images of exterior vistas viewed through the car interior. "They're sort of crazy," says Elisabeth Sussman, the Whitney's curator of photography. "He uses the inside of the car and its windows and mirrors as a framing device. The images are infinitely interesting on a lot of different levels."
Friedlander, born in 1934, came to New York in 1956 to photograph jazz musicians such as Miles Davis and John Coltrane for record covers. In the 1960s he was hailed as a prominent "street photographer" for his seemingly casual, snapshot aesthetic. "He was part of the jazz scene, the clubs. There was a sensibility in the air that shaped artists and a way of thinking," says Charles Stainback, curator of photography at the Norton Museum of Art in West Palm Beach, Fla.
---