Social networks for niches
Focused niche social networks give rise to defined online communities. Even giant Facebook is taking notice.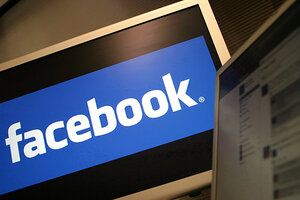 ZUMA Press/Newscom
Though Facebook has won over a widely promulgated 500 million active members, Kay Gardiner is unimpressed. Frankly, she thinks the social network is clunky and disconcerting.
The busy Manhattan-based writer and attorney isn't interested in playing games, "poking," or posting status updates. She doesn't want to reveal personal information to faux friends nor look at photos of casual acquaintances on vacation.
"It doesn't seem useful to me on a personal level," says Ms. Gardiner. "This stream-of-consciousness communication with other people is something I'm really not interested in."
It's not that she isn't Internet savvy. In fact, Gardiner's quite the opposite: In 2003, she and a friend started a knitting blog that spawned two books and celebrity status in the knitting world. She's also a member of niche social network Ravelry, a site for knitters and other fiber enthusiasts.
"Blogging is labor-intensive," she explains. "On Ravelry, you have this easy interface. It's so elegant. You search for a pattern or yarn and you get somebody's picture of it with personal comments. It's not statistical; it's very human."
As in most niche social networks, members of the free site can post projects, make friends, join groups, and otherwise interact around a focused subject.
"I know Ravelry doesn't really matter to the world that doesn't knit," admits Gardiner. "But Facebook should be more like Ravelry."
---