Steampunk: The new Goth
The retrofuturistic trend draws on a Jules Verne-like view of the world and Victorian-era technology.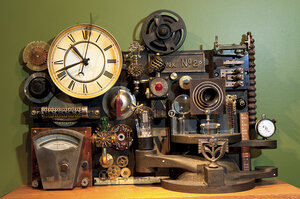 Melanie Stetson Freeman/Staff
Some pop culture genres such as Tolkienesque fantasy imagine a magical past of strange races and global quests. Others, such as hard-core dystopian science fiction, warn against a future marred by apocalyptic meltdown.
Then comes steampunk, a hybrid vision of a past that might appear in the future – or a future that resides, paradoxically, in the spirit of another age.
No, you're not stuck in some goofy concept album by The Moody Blues. Steampunk is a fantasy made physical, made of brass and wood and powered by steam, born of the Industrial Age and inspired by the works of H.G. Wells and Jules Verne. It takes form both as an aesthetic movement and a community of artists; role-players; visionaries; and those who use the tools of literature, film, music, fashion, science, design, architecture, and gaming to manifest their visions.
"[Steampunk is] drawing on actual history. You can pull into it what you're into and put your spin on it. It's accessible yet expandable," says Jake von Slatt (real name: Sean Slattery, of Littleton, Mass.), who likens the philosophy behind steampunk to the open-source software movement. "There is a real focus on sharing, exploring things together, building community."
Steampunkers gather in conventions to exchange ideas – plus, they know how to dress to the nines and party like it's 1899.
---